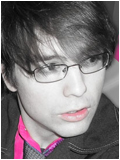 Born in Milwaukee, Wisconsin on June 15, 1974, Jorin Garguilo first encountered improv comedy when his parents took him to see a ComedySportz-Raleigh show with a friend when he was 16. After his 17th birthday, prompted by another friend, he began taking workshops and joined the troupe, performing his first shows with them by fall of that year.

During his stint with ComedySportz-Raleigh (renamed to ComedyWorx around 2000), Jorin helped create the show Double Feature, another movie-based show that included 20-30 minute genre narratives opened by pre-filmed parody ads and movie trailers.

Moving to Chicago in 2004, Jorin went through the iO training center, and following graduation in 2005, began performing around town with a variety of groups. He began to coach both the independent team the Very Real Cops and the Playground Incubator the Riot in 2006.

Jorin joined the original cast of Our Feature Presentation after taking the Movie class at iO, and began amassing Our Feature Presentation Movie credits at the debut of the show in November 2006.

Jorin is also an enthusiastic albeit amateur visual artist and musician. His non-improv work is showcased at buoyfish.com.