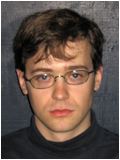 Sean M. Kelley was born and raised in the sleepy hamlet of Newburyport, Massachusetts. He holds a bachelor's degree in Theater from the University of Massachusetts at Amherst where he was introduced to improv through campus groups Mission Improvable and Casual Sketch.

Sean is a graduate of the iO Chicago Training Center and has also taken classes with Annoyance Productions. He performs at iO with Harold super-team the Washington Generals, and Our Feature Presentation. He also plays at the Playground Theater with member ensemble the Space Robbers.

In his spare time, Sean likes to cook, read and collect comic books. Sean lives with his two cats, and his loving girlfriend. Sean's favorite movie(s) is the Lord of the Rings Trilogy.